Buy antabuse over counter, Can you order antabuse online
A mobile site
for bubble tea
Project Summary
Duration:     2.5 weeks
Completed:  2016
Team:           Me + 2 UX designers
Role:             UX Designer
Delivered:    Personas, Digital Mockups, Mobile Site Prototype, and Strategy
Brief
Gong Cha is a Taiwanese bubble tea / pearl milk tea / herbal tea retailer with a presence across the globe and Australia. The brief:
Understand key customer types and behaviours
Increase new visitors
Develop a mobile app
At the time, Gong Cha had no mobile-optimised site or app, and only limited listings on Google Maps.  

Role
While we were all involved at all stages of the project, my specific contributions were in planning and project management, personas, and digital mock ups. I ensured that we had a timeline, progress check-ins, and were all on the same page regarding areas of responsibility and expectations. We were able to complete ahead of target, leaving extra time to work on the client-facing presentation.
Challenges
One of the challenges was to avoid launching into 'solution mode' too early based on our assumptions about bubble tea and its drinkers. With three minds to pull from, we had too many ideas initially. However, through conducting contextual enquiries, in depth interviews, and online surveys, we were able to clarify the key issues underlying the client's problem and pinpoint the key areas of focus.
Actions
We began by assessing Gong Cha's website, and immediately found that it was not responsive nor did they have a dedicated mobile offering. Next we searched for our nearest Gong Cha, only to discover that though there were at least three shops in Sydney city centre, none appeared when we searched for 'bubble tea' or 'pearl milk tea' – only the competitors were listed on Google Maps. Finally, when we searched specifically for Gong Cha, only one branch appeared. We decided to pay both Gong Cha and the competitors a visit, to check out the in-store experience and see who's buying (and not buying) the tea. 
We discovered that among bubble tea drinkers, females outnumber their male counterparts by 3 to 1, and the majority of customers were in the 18 to 35 age bracket. 18.4% of 87 participants surveyed had never tried bubble tea, and 73.6% only drink it occasionally. This 92% would become our key target group moving ahead.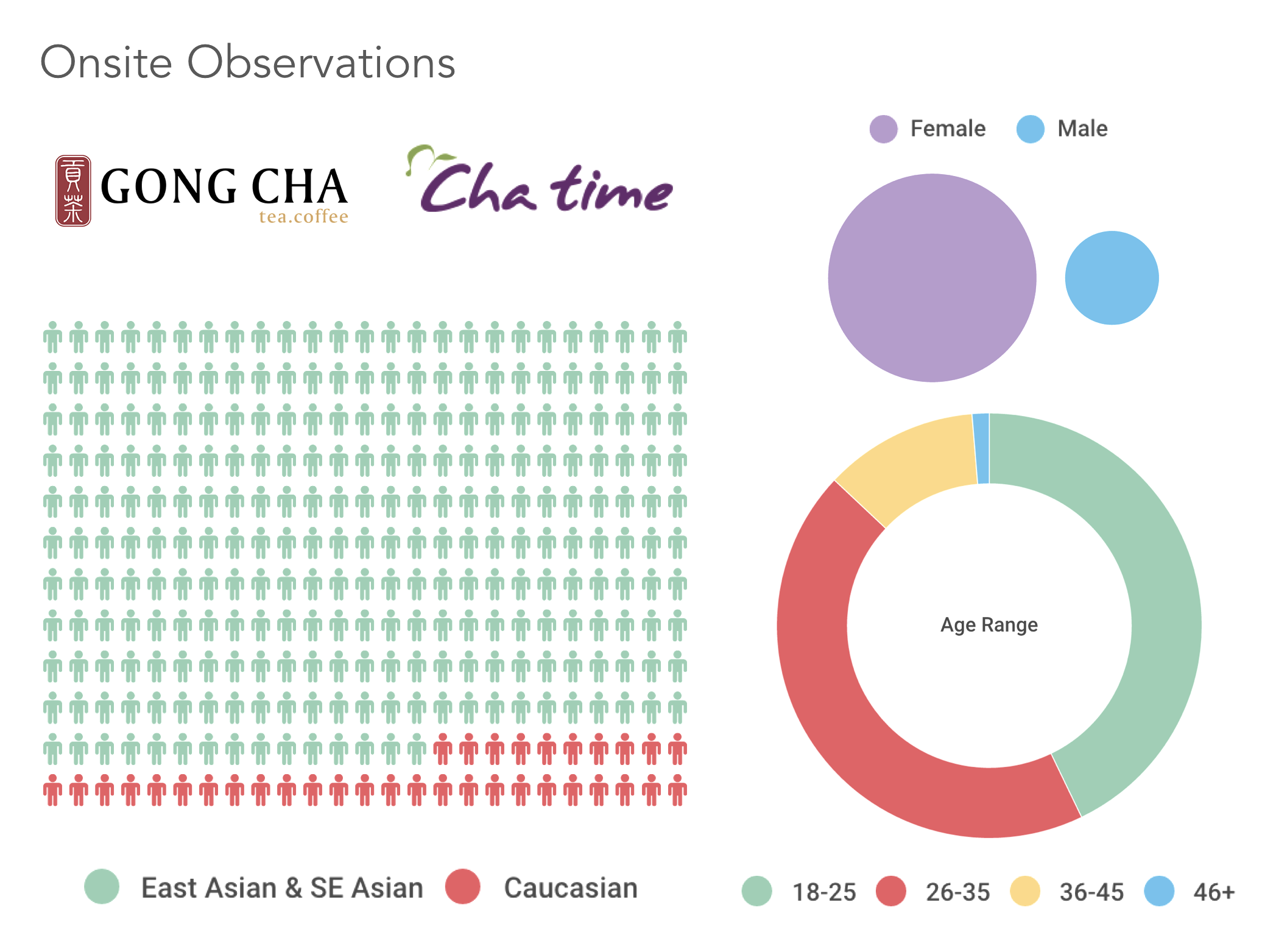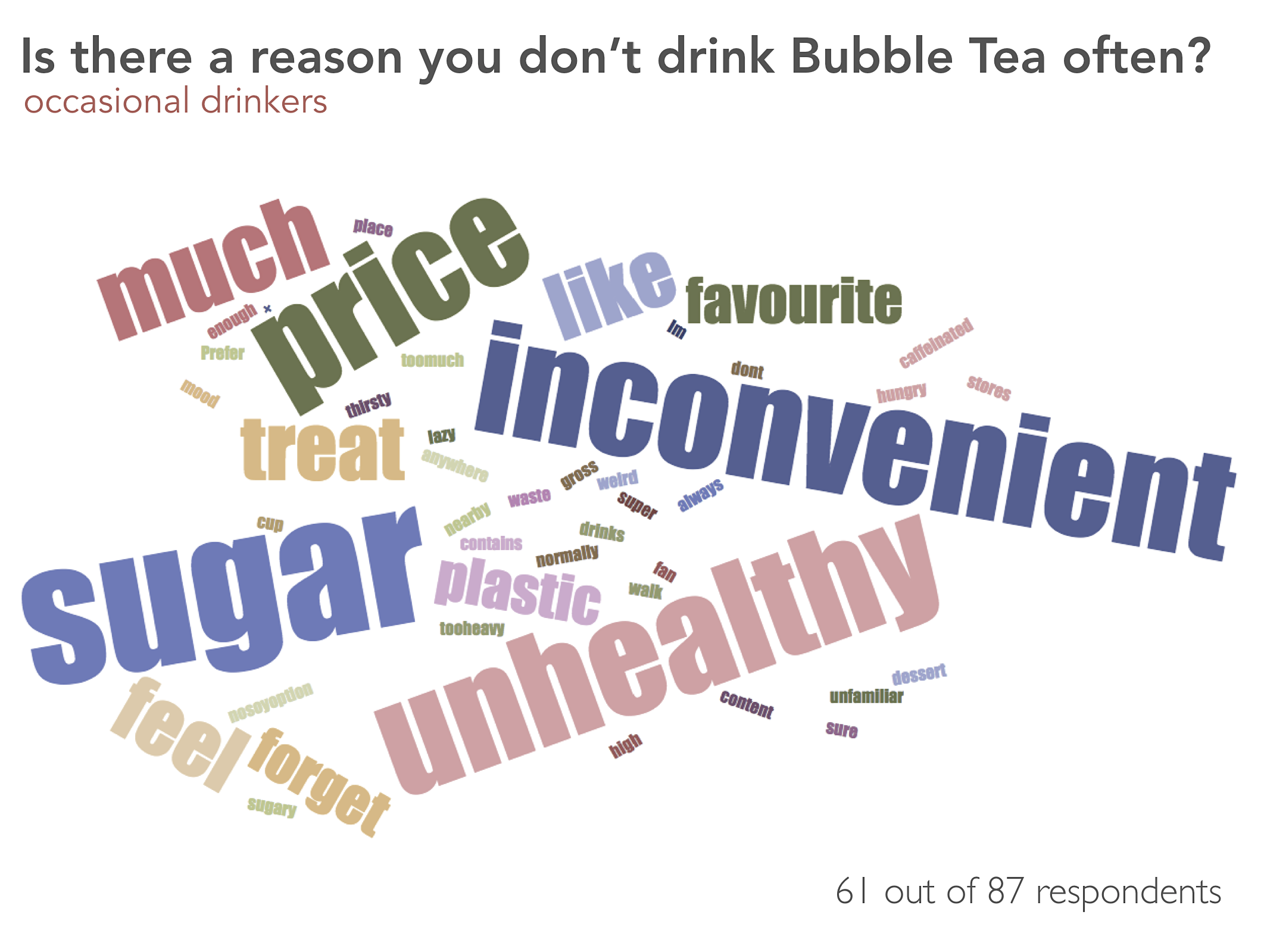 Pain Points
Occasional – limit intake due to perceived unhealthiness
Never tried – intimidated by unfamiliar ingredients, and perceived unhealthiness
Personas
Based on our research we were able to distill three personas for bubble tea: frequent, occasional and never tried.
With the key personas outlined, we mapped their user journeys to capture their pain points with Gong Cha's current offering – both digital and in person.
Using a feature prioritization matrix we plotted our ideas on axes of importance and cost of implementation, and looked for solutions that might benefit multiple user types – without alienating the regulars.
Finally, we concentrated these concepts further to those that directly address the brief.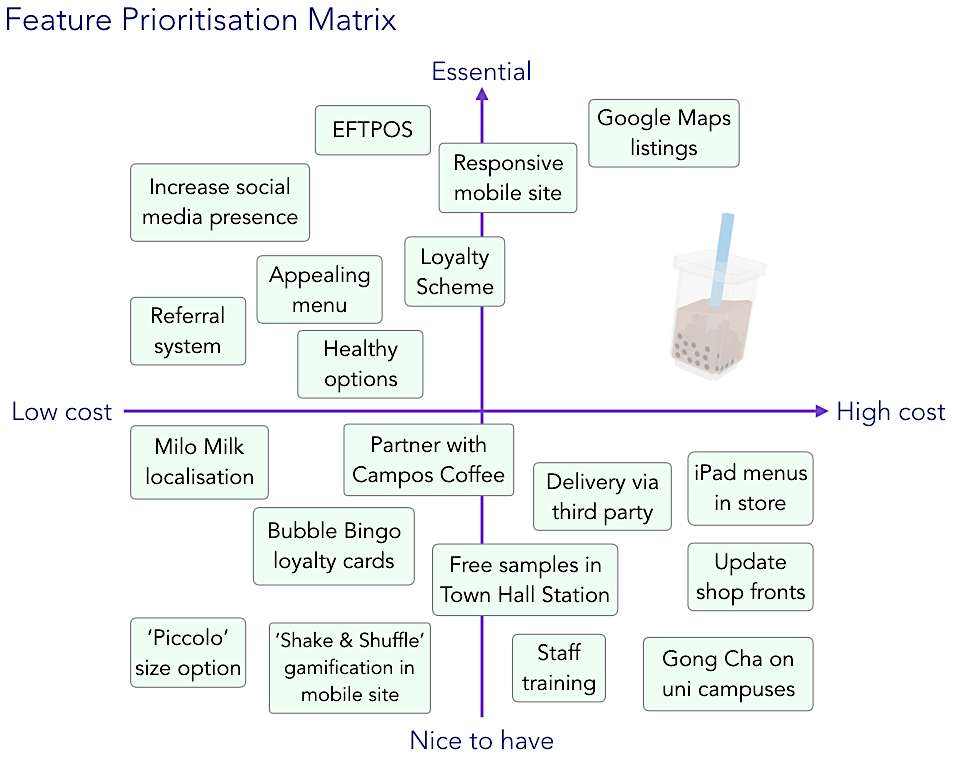 After confirming the direction and deliverables with the client, we created a multi-faceted strategy to achieve their objectives – with a focus on a mobile site to inform users about Gong Cha. The client agreed with our position that a mobile site would reach more new users than an app, which would require download.
Paper prototype and Testing
In our first paper prototype, we included functionality for creating and ordering in drinks, with the intention of partnering with a third party such as Deliveroo (or similar) – for orders over $20. We also gamified the experience with "Bubble Bingo" and "Shake and Shuffle" features to encourage users to try a new flavour or combination and accrue loyalty points.
However, it became clear from the first round of user testing that these ideas were flawed. Although delivery is common in Asia (even for single orders), our participants indicated that they would only opt for delivery if it were free. They were unlikely to order the 4 drinks required to qualify for free delivery. Secondly, with new users cautious, and regular consumers loyal to their preferred drink, the concept of "Bubble Bingo" needed to be replaced by a more product-neutral loyalty scheme.
Based on these findings and the two week timeframe, we decided that our next iteration should be digital. We combined the best of our three ideas into a mobile site, creating the mockups in Sketch. We restructured the menu so that potential customers are less bombarded by choice and intimidated by unfamiliar ingredients. Within this we highlighted the health benefits of tea in the new Wellness section, as we identified a common concern among both the never-drinkers and occasional-drinkers regarding the sugar content of the teas and juices currently available.
One insight gained from the in-depth interviews was that frequent bubble tea drinkers love to introduce their friends to the product. Gong Cha can capitalise on this desire to share, and reach unfamiliar users with a social media campaign on Instagram.
In addition to this, partnering with Rewardle would provide Gong Cha with access to 1.5 million registered users, and provide a platform for visibility, ordering ahead, and loyalty points – none of which are currently offered by other bubble tea brands in the market.
Finally, EFTPOS payments and Google Maps listings are expected in 2016. Both of these elements re-capture the occasional and frequent tea drinkers who at present may prefer competitor tea brands for convenience, or impulse purchase based on location.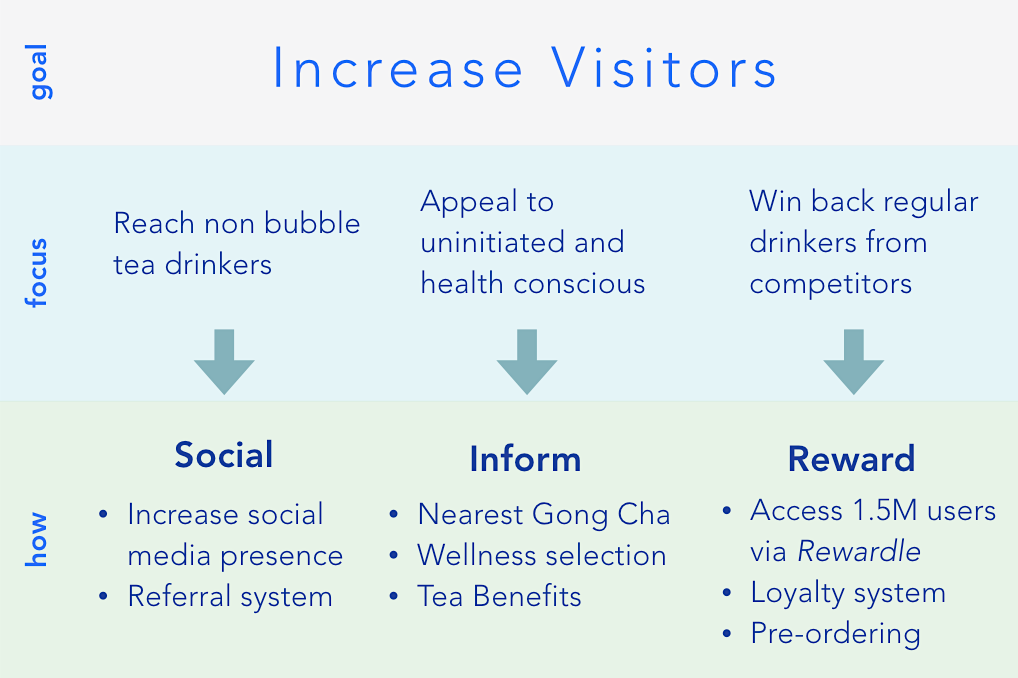 Campaign Mock Ups

Final Prototype
The prototype for the mobile site presents a clear re-branding for Gong Cha; repositioning the company as fresh, approachable and contemporary. Wellness teas are highlighted, social media incentives and integration are placed front and centre, and users can immediately get directions to their nearest Gong Cha.
This combination approach addresses the user pain points we uncovered, and is the best way for Gong Cha to increase its market share.